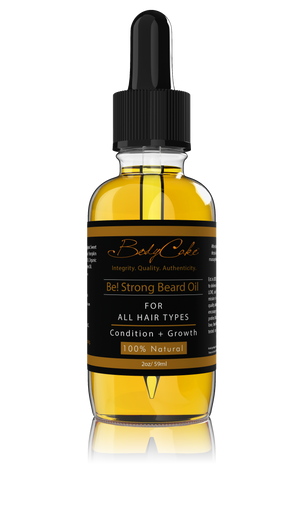 Body Cake
Be! Strong Beard Oil - Relieve Dry Skin & Hair + Growth
Sale price Price $23.00 Regular price $0.00 Unit price / per
Moisturize, condition, refresh your beard, and stimulate hair growth!
Relieves dry, itchy skin and hair
Combat beard hair odor
Soften and stimulate hair growth
100% Highest-Quality Certified Organic Ingredients
Be! Strong Beard Oil is a harmonious combination of the highest-quality Certified Organic oils effective at relieving dry, itchy skin and hair, eliminating odors, and encouraging healthy hair growth.
INGREDIENTS:
Organic Castor Oil, Organic Baobab Oil, Organic Jojoba Oil, Organic Sweet Almond Oil, Organic Pumpkin Seed Oil, Organic Rosemary Essential Oil, Organic Peppermint Essential Oil, Organic Thyme Oil. 
*ALL Organic Ingredients are USDA Certified.
ENJOY:
After shower and/or face cleansing, apply a few drops daily, morning and night. Brush, comb, or massage through beard, concentrating on roots, dry, and thin areas. 
Take before and after pictures to measure your progress. 
*Due to the nature of this product, we are unable to accept returns, however if you receive this product in unsatisfactory condition, please contact us immediately and we are more than happy to rectify any issues you may have.